Movies get us through the worst parts of our lives, breakups included. Chances are you're probably stuck on your couch crying, so why not watch something that'll help you through it and not just reruns of Chopped all day? Watching characters get through their own breakups is a good way to get over your own, but not all of us are at that stage of grief yet. Whether you want to wallow in sadness or are ready for new love, we've got the kinds of movies you should watch after a break-up.
Sad movies for an acceptable reason to cry all day long
The first stage is the worst. You probably can't pull yourself off the couch to do anything but feel bad for yourself. It's good to embrace all those emotions for a bit, and watching movies sadder than your own breakup is a good way to cry it out. The safest choice is naturally Schindler's List, but in case you're over that one there are plenty of other tearjerkers for you to choose from.
The Painted Veil, starring Naomi Watts and Edward Norton, sounds like a drama that holds a happy ending, but trust me it'll wreck you. After having an affair with another man, Watts's character has to accompany her husband (Norton) on his trip to treat cholera patients in 1920s China, but things don't go as she expected. The ending is one you can wallow in for a while, just what you need right now.
Frantz is another great period piece full of sadness and heartbreak. The widow of a German soldier finds a Frenchman visiting her husband's grave one day who claims to have spent time with him when he was stationed in France. She becomes close to him in order to hold onto her husband's memory, a process that is heartwrenching to witness. Things get worse than you could have ever pictured, all in three different languages and shifting color schemes. It's an artful tearjerker if you've gone through all the cliche ones already (Maybe it's time to move on to the next stage?).
Other go-to's for bawling your eyes out are Ordinary People, My Girl, The Boy in the Striped Pajamas, Mustang, The Green Mile, Bridge to Terabithia, The Elephant Man, Fruitvale Station, Brokeback Mountain, and Old Yeller.
---
Movies to vicariously get your anger out
Maybe you need some violence to cleanse your soul, which is fine to watch other people do, but please let that be the extent of it. David Fincher's Gone Girl is the perfect bad-ass revenge movie in this situation. Watch Amy ruin her cheating husband's life like you want to do to the person that broke your heart.
Keanu Reeves seeks revenge for the death of the cutest beagle puppy in John Wick. There are nice suits, A+ shooting, and the worst villains. It's everything you want in an action film with some serious anger and heartbreak behind it–just like the kind you're feeling. When you finish that, you can watch the second one.
Other good revenge movies are Django Unchained, John Tucker Must Die, Gladiator, Nine to Five, Kill Bill I & II, and Carrie.
---
Movies that will make you believe in the world again
All right, it's time to pick yourself up. There are numerous inspirational films out there about people overcoming horrendous tragedies or obstacles. Maybe you need something that'll give you some hope in living life outside of romance. One great movie to help you realize how much of an impact you have on people is Frank Capra's classic It's a Wonderful Life. It may seem like you could disappear now and no one would care now that one person is no longer in a relationship with you, but you've got a lot of people that love you. Don't take my word for it, go watch Jimmy Stewart show you.
There are great movies that show the awful world we live in, but the small hope that resides in even the darkest of times. Children of Men starts out bleak, but if you don't feel a sliver of hope with the promise of new life in the end, then I'm a little worried about you. Wings of Desire is a gorgeous Wim Wenders film following angels that bring hope to the people of Earth. It's a good one to meditate on even after it's ended.
If anyone can make you believe in this world it's Mister Rogers. The 2017 documentary Won't You Be My Neighbor? will touch your heart and turn some of those sad tears into happy tears. Saintly Fred Rogers will show you compassion, love, and hope in all kinds of ways all while making you feel as special as you felt as a child way before you knew the pain of heartbreak.
Other hopeful movies are Brigsby Bear, Lion, My Life as a Zucchini, and The Secret Life of Walter Mitty. 
---
Movies where couples don't end up together
Now we can accept the end and not think of it as the end of the world, we can watch movies with some romance, but that doesn't end with an undying love. These movies will help you be glad your relationship happened and show you that people moving on after an end. One movie some people don't think of like a breakup movie is the incomparable Barbra Streisand's Yentl. She pines over Avigdor for the entire movie dressed as a boy so that she can become an academic, but they don't end up together in the end. Yentl leaves him with the woman he actually loves and goes to pursue her studies. She holds no hate for him and she's a perfect example that there's more out there for you to focus on than the people that aren't in love with you, and she shows us with the perfect song below.
One movie that seems to have been made to get you through the difficult process of separating your life from a former partner is Celeste and Jesse Forever. Celeste, Rashida Jones, deals with splitting from her husband Jesse, Andy Samberg, while he's moved on to someone else. It gets what you're feeling right now and makes it a good story, despite some wonky comedy parts. If seeing characters get through things similar to your situation, then this is the breakup movie for you.
Other movies where the lovers don't get together are Casablanca, The Umbrellas of Cherbourg, Call Me By Your Name, The Devil Wears Prada, La La Land, Legally Blonde, (500) Days of Summer, and Lost in Translation.
---
Movies to put you in a good mood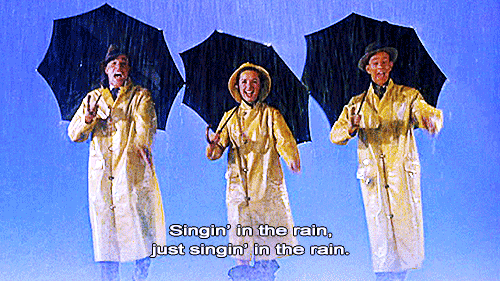 While things will get better, they don't always get better in a straight upward line. You'll still feel down at unexpected moments and it's always good to have happy movies on hand for anything that goes on in your life, but especially when you're feeling alone. Think of your go-to happy movie, one that makes you laugh, sing, dance, or smile. Mine is Singin' in the Rain. It's pure joy in song and dance from the best dancer ever to grace the screen, Gene Kelly. The characters do good in Hollywood amongst deception. They take pride in making people laugh and striving for their dreams. I've seen that movie countless times, but it always puts me in a good mood for days since the songs stay stuck in my head long after it's over.
There are all different kinds of movies that can make you happy. It just depends on what you're into! Maybe you want to feel like a kid again with The Princess Bride or a good Disney movie like The Emperor's New Groove. There are ridiculous comedies that will make you laugh like Airplane!, Wet Hot American Summer, and Some Like it Hot. There's every feel-good Tom Hanks movie ever made, including Big. Luckily, it's been Hollywood's job to make us feel good since the dawn of movies, so you have a ton to choose from.
---
Movies for when you're ready for love again
Eventually, watching couples fall in love on screen won't make you scream at your television anymore. When it's time, maybe you should find some more realistic expectations in offbeat romantic comedies like Obvious Child. As sad as it is funny, it's a realistic romantic comedy that covers much more than just love. It'll give you hope that you can find love after even the worst has happened to you.
Different romance movies for you to watch once you're ready to move on could be Lars and the Real Girl, The Shape of Water, Amelie, Crazy Stupid Love, Moonrise Kingdom, Sleepless in Seattle, The African Queen, Her, Patterson, and To All the Boys I've Loved Before.
---
No matter what stage of a breakup you're at, you'll make it through. Movies can help a lot, but don't forget to reach out to the other people that love you in your life and watch some movies with them.
Related Topics: Comedy, History, Love, Romance
Emily Kubincanek is a Senior Contributor for Film School Rejects and resident classic Hollywood fan. When she's not writing about old films, she works as a librarian and film archivist. You can find her tweeting about Cary Grant and hockey here:
@emilykub_