Gadot pairs with 'The Affair' creator Sarah Treem to dramatize the famous actress and inventor's life for TV.
Gal Gadot, famously known for her starring role in Wonder Woman, is reportedly about to close a deal with Showtime to executive produce and star in a limited series about Hedy Lamarr, as Variety reports. Also involved in the project are creator and showrunner for The Affair Sarah Treem and executive producer for The Handmaid's Tale and Fargo Warren Littlefield. Treem will write and executive produce along with Littlefield.
The show's subject Hedy Lamarr was an Austrian immigrant turned Hollywood sensation in the 1940s. Her status as the most beautiful woman in the world at that time overshadowed her revolutionary work as an inventor for most of her life. Eventually, Lamarr was credited for the technology that led to GPS, Bluetooth, and Wifi.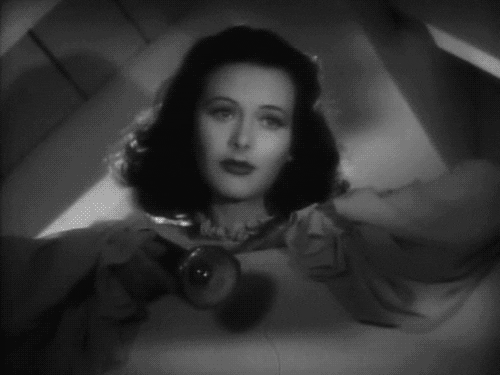 This news comes after the success of biographical documentary about Lamarr and her remarkable life called Bombshell: The Hedy Lamarr Story that came out last year and is now available on Netflix. Alexandra Dean's documentary looked at Hedy's misunderstood image in Hollywood and her brilliant mind in Hedy's own words with the help of phone recordings of her late in her life. Hedy herself was a fascinating woman, one that the world wanted to simply just be beautiful when she had much more to offer, and the documentary showed her in the way that she wanted everyone to know her.
While Hedy was finally credited with her frequency hopping technology in the 1990s, appreciation for her seems to be more recent. She was only inducted into the National Inventors Hall of Fame in 2014. Dean's documentary certainly kept her name in the news and conversations, finally making Hedy Lamarr a household name for everything she did for entertainment and science. Lamarr has become a feminist icon and role model for young women of today, as she'd an early example of a woman who defied simple definition. Lamarr's empowering story couldn't be a better fit for anyone other than Wonder Woman herself, Gal Gadot. Lamarr hid her Jewish heritage to avoid fatal prejudice during and after WWII, but Gadot has proudly talked about her Jewish background, just another reason why she is great for the role.
Gadot's future Lamarr limited series is the second in the past couple of years that highlights Old Hollywood stars, the first being Ryan Murphy's Feud: Bette and Joan. Feud dealt with legendary actresses Bette Davis and Joan Crawford and their so-called "feud" that boiled over on the set of Whatever Happened to Baby Jane?. Davis and Crawford dominated Hollywood during the same time Hedy Lamarr was acting and Fued attempted to convey a similar feminist theme to Lamarr's story but missed the mark. Murphy's series used unreliable gossip about the stars as the script's foundation (which they paid for after a lawsuit with dame Olivia de Havilland) to build an image of complete puppetry in the actresses' careers. In reality, Davis and Crawford had more power in their career than many actresses in their day, including Hedy Lamarr. Murphy's sensational style wasn't the right fit for Davis and Crawford's story, that is if their relationship was worth a credible television show at all. Classic movie fans adore seeing their favorite stars, many of whom are remarkable people with fascinating stories, on screen for new generations, but when their legacy is misconstrued for an exciting story, it defeats the purpose.
Just from the few names involved with the Hedy Lamarr series, it seems to be in much better hands than Feud. Gal Gadot has not only starred as DC's most famous female superhero, she's taken the responsibility as a role model off-screen. She's dressed up as Wonder Woman to visit children's' hospitals and is vocal about her opinions on equal rights, however basic they are.
Feminism is not about burning bras/hating men or growing hair under the armpit.. It's simply about EQUALITY between men and women. Equal pay, equal opportunities etc. We should all be feminists! ❤️ #internationalwomansday2018 pic.twitter.com/6LpyGpwSXu

— Gal Gadot (@GalGadot) March 9, 2018
Sarah Treem's position as a writer for the show will hopefully help Hedy's story be as respectful to her and portray her accurately. One issue with many TV shows about women is that they are told through male writers' and showrunners' perspectives. Even when the show is dominated by a great representation of women on the screen, if the crew doesn't mirror that diversity, then the story could be warped in an untrue direction. How Hedy Lamarr's story is told is the most important aspect of the upcoming limited series. Hedy struggled with being defined by the men of Hollywood and the rest of the public without a say so in who she wanted to be. They never chose to understand her, and in turn, they destroyed her by driving her to achieve a perfect image, an impossible image. If the script doesn't show every aspect of Hedy, and with some consideration for her unique female experience per Sarah Treem's help, then the show will just be a perpetuation of the unfairness that Hedy struggled with her entire life. Gal Gadot's involvement with other female filmmakers like Patty Jenkins and her role as an executive producer is hopefully good news for a diverse writing room.
The news is still fresh for this upcoming series, but what aspects of Hedy's life the show will cover and who else will be involved will be clear once the deal with Showtime is official. It's much too long of a wait until we see Gal Gadot sporting 1940s glamor gowns and Hedy's signature waves.
Related Topics: Feminism, Gal Gadot, Showtime
Emily Kubincanek is a Senior Contributor for Film School Rejects and resident classic Hollywood fan. When she's not writing about old films, she works as a librarian and film archivist. You can find her tweeting about Cary Grant and hockey here:
@emilykub_